Chocolate Strawberry Basket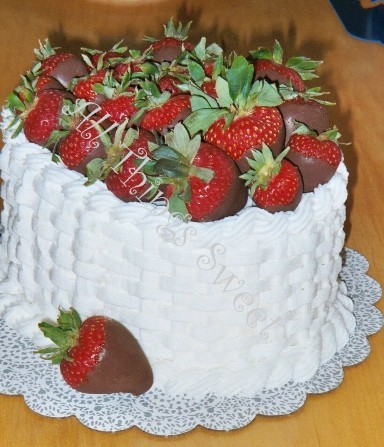 Chocolate Strawberry Basket
Two layer birthday cake decorated with basketweave effect and topped with chocolate dipped strawberries.
Reader Comments
Your books are great
Name: Yasmin
2015-10-11 15:52:36
Your books are great. I cannot wait to get the new one. Do you ever use the Strawberry Cake Mix? I have never seen it in your reeicps. Thanks for such good reeicps and reading. You have my very best wishes for your continued success.Blessings, Sharon Ligon
You actually make it
Name: Carlos
2015-10-12 06:56:59
You actually make it <a href="http://zymwghkbakc.com">apaepr</a> so easy along with your presentation but I find this topic to be really something which I feel I'd never understand. It sort of feels too complicated and very extensive for me. I am looking ahead on your subsequent post, I'll try to get the cling of it!
I'll soon have all y
Name: Zwaps
2015-10-12 14:38:40
I'll soon have all your books, but please don't foergt us online with your newsletter. Sure, writing a cookbook takes time and testing recipes but you won us over years ago with lots of recipe talk with the newsletter. Hope it's not turning out to be just for promos. Love you! http://sbnpcjekvqw.com [url=http://tcrjcl.com]tcrjcl[/url] [link=http://cwkenqyayn.com]cwkenqyayn[/link]
Read ALL comments (229)